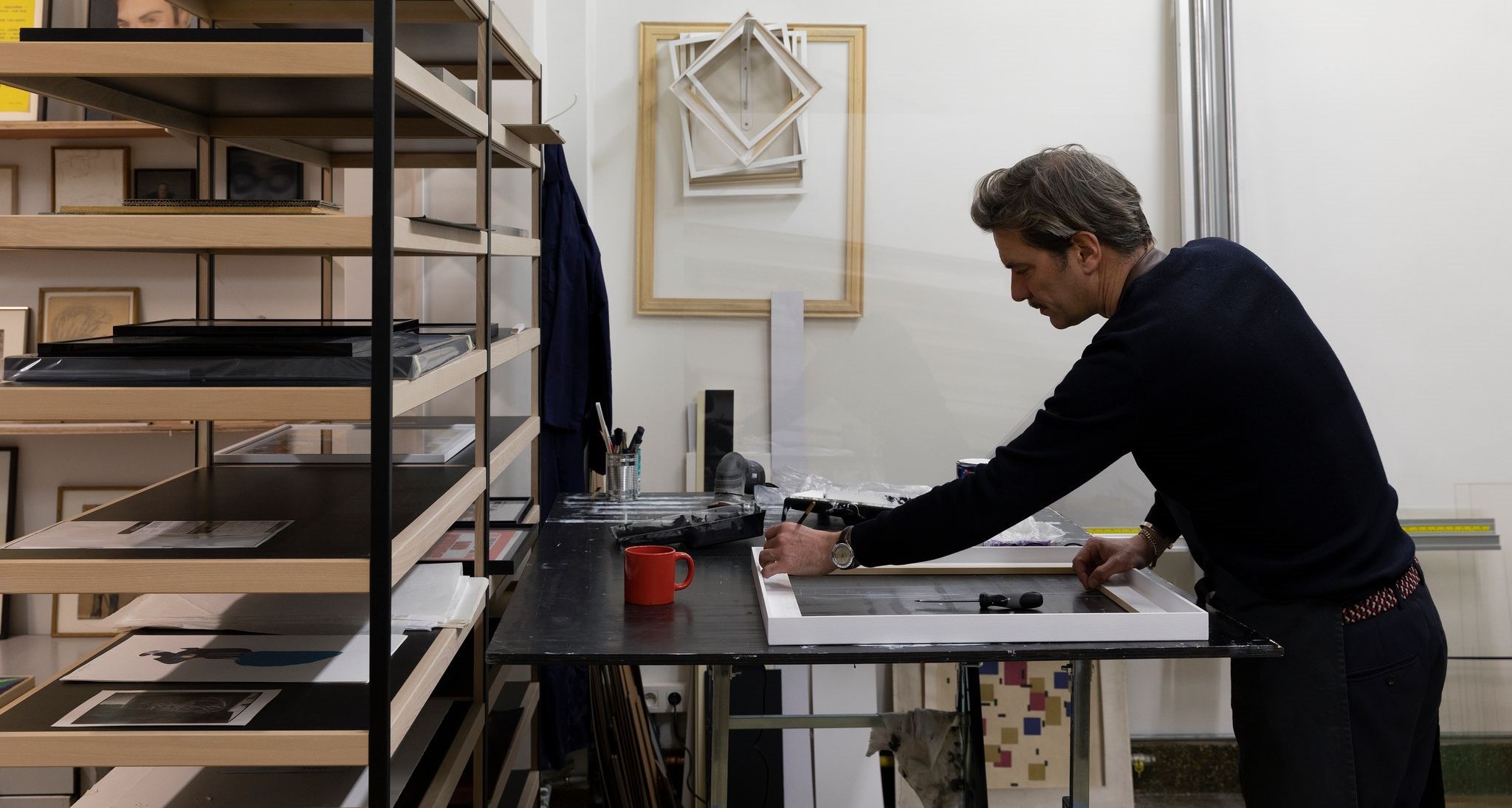 After many years in the design world, Brussels-based Thomas Gillon chose a different path 2 years ago. Under the name 'On the rocks', he now works as a framer, providing artists and galleries as well as private individuals with the exactly right frame for a particular work. In his studio in the heart of Brussels, on Fabrieksstraat, he finds peace:
"As a framer, I found a perfect balance between the solitude of working in a studio and the social contact of working for clients. In the studio it is calm and I get pleasure from working with my hands, on my own. The contact with others also energises me. I get to know so many new artists and works, and meet people who are equally driven and passionate about art and culture."
The simplicity of the rack comes into its own in this beautiful building, a former coffee roastery. "The space was empty when I moved in, but there were some machines and coffee bags left behind. The details are typically Brussels: a granite floor, high walls and a cosy little courtyard at the back."
Thomas was already familiar with the brand and also has a dressing room at home. "The extremely simple design and endless possibilities are a big plus. The fact that it is Belgian is extra nice. Here I chose a simple design, but the choice of colours is very nice. I also find the MIST range at the hand of designer Julien Renault very contemporary."
Thomas Gillon, founder of On the rocks
In that studio, you will also find a strikingly unremarkable Kewlox combination. Without the signature doors, but the wooden slats and metal frame are unmistakably Kewlox.
"I need a lot of horizontal surface for my work, and this way I immediately add a lot of centimetres," Thomas explains his choice of this composition. "All new works I can put here, framed or not."